Starter Web Hosting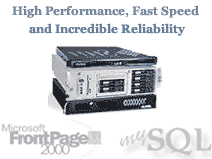 $4.95
Web Hosting Plans



Starter Web Hosting
Basic Web Hosting
Gold Web Hosting
Platinum Web Hosting
Enterprise Web Hosting

Internet Server Site\'s Starter Web Hosting Plan is suitable for Personal Pages/Domain Parking / adWords Landing Pages/ Experimental Work..
Explanation of Google adWords landing pages: In the past it was possible to sign up as an an affiliate with any Merchant who had an affiliate program then use Google adWords to advertise the Merchants product or service, sending customers directly to the Merchants site by using your affiliate link in your Google ad thus collecting commission for sales without any need of having a website.
Google has put a stop to this practice. To give people an acceptable alternative, Internet Server Site offers the Starter Hosting Plan - which is an ideal and affordable solution for adWords landing pages. To use adWords now, you can still sign up as an affiliate with the product/service Merchant and direct your adWords link to your landing page, then use your affiliate link to direct customers to the Merchants page.
Starter Hosting
$4.95/month
Space 250MB
mySQL Databases 1
Domains 1
Sub Domains 0
FTP Accounts 1
Email Accounts 1
Web Control Panel cPanel x - theme
Transfer Allocation 2,500MB
24/7 Online Support