Web Hosting Solutions
Existing Internet Server Site Clients log in here »

Internet Server Site is committed to making web hosting available to everyone. Plans range from a Basic account all the way through to an Enterprise account.

State of the art Web Servers
Accounts are hosted on the latest state of the art and the fastest CPU's (Xeon 800FSB 3.0 to 3.6GHz and Opteron 248 and 250 processors), 8Gig of DDR333 or DDR400 ECC Registered RAM, the fastest disk IO utilizing RAID10 disk arrays, the fastest network connectivity with 2xGigabit Ethernet connections per hardware node, and the fastest and most redundant backup solutions to near-line RAID6 protected servers.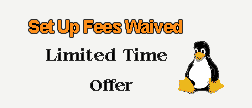 For a limited time Internet Server Site has decided to forgo the usual account set up fees. If you have been thinking about the benefits of having your own website - now is the ideal time to get started. We have structured our prices to make owning a website affordable for everyone.

Do you have additional Web Hosting questions?
Internet Server Site receives a lot of mail from people who can see the benefit of owning a website but have no idea how to go about getting started. We notice we receive many eMails from people with similar questions and concerns. If you have unanswered questions you may find your answers here - More Info »

cPanel is included with every hosting package - See Demo »

Domain Name Registration and Management
To register a domain name - Click Here »

Free Websites
We have decided that we would like to offer free websites to those people who can't afford a website. We know many people in start up business know they want and need a website but simply can't afford a website
Learn More »
Web Development
Harrington's Web Services develop new websites for our customers or we can also update your old website. We can build Shopping onLine sites, Data Base driven websites, sites that display on mobile devices, Google adwords landing pages
Learn More »
Other Services
We can also help with Search Engine Optimization and Google adWords campaigns. We create and install PHP scripts for your site like Autoresponders, Power Mailers and much more.
Learn More »